The region of Mani has a very good reputation as far as its gastronomy is concerned. Indulge in the local cuisine which is characterised by the simplicity and the tastiness of the locally sourced products. This is where you will find ample fresh fish, as well as, a plethora of traditional recipes preserved as genuine as in the old days. But, by all means, do try also the gourmet dishes served at the restaurants which derive from a combination of traditional recipes with more modern concepts. The region is continuously evolving, thus, it offers abundant choices to meet the needs of even the most demanding visitors.
Suggestions
Kyrimai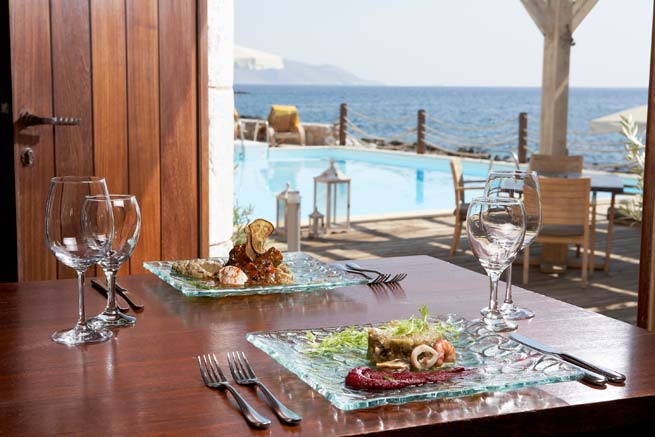 This is where you will enjoy Greek and international Creative cuisine by the talented and award-winning chef Yiannis Vaxevanis. The restaurant is situated within Kyrimai Hotel in an atmospheric ambiance. You will be absolutely enchanted by the breathtaking views to the port of Gerolimenas and the rock of Cavo Grosso. The use of local products and quality ingredients is a priority and a dinner here will convince you that when simplicity combines with creative ideas, it can yield to a miraculously delicious outcome. Make a reservation and enjoy the freshest fish caught on that same day by the local fishermen, the superb shrimps from the town of Githio, the locally farmed meat baked with fragrant herbs and other delicacies containing ingredients of rich nutritional value. We recommend that you order the risotto with sea urchin and seaweed, the savoury millefeuille with salted meat and the pork tenderloin with dried figs and "halloumi" cheese. The restaurant boasts a very interesting wine list of Greek labels where wines from the counties of Laconia and Messinia play the protagonist role. Open daily between 13.00 - 16.00 with a lunch menu and between 20.00 - 00.00 with a dinner menu. Prices start at €35 / person (Gerolimenas Mani, for reservations call 27330 54288, www.kyrimai.gr)
Takis' taverna
It has been awarded as one of the best fish taverns in Greece and numerous food connoisseurs and journalists have written about. We definitely suggest you include it in your list of spots to dine and wine at. Make your reservation for a table next to the sea shore and order from an exquisite menu of fresh fish and sea food delicacies. It is located in the area of Limeni and at a 25 minute drive on the road to Areopolis. Open daily between March and October from 12.30 till late. Prices start at €15 / person (Limeni, for reservations call 27330 51327) 
Katoi
Ii is located in the town of Areopolis and it is preferred for its home-cooked meals. Do order the "Kleftiko' which consists of three different kinds of meat baked in the oven with vegetables, as well as the lamb in lemon sauce. You will find both those dishes highly addictive! Katoi is easy to find due to its central location and you will adore it for its hospitable atmosphere. Open daily from noon till late. Prices start at €10-15 / person (17th March Square, for reservations call 27330 51201)
Epilekton
If you are looking for a small taverna with tables next to the shores of Gerolimenas and you are willing to taste the freshest fish ever, then Epilekton is a top selection. Choose among the fish range and order some small fish dishes and sea food delicacies. Prices start at €15/ person (Gerolimenas Mani, for reservations call 27330 54227)
O Akrotainaritis
You will adore this restaurant for its home-cooked meals that the owners prepare themselves. Mrs Vasilki and granny Konstantina -who is 90 years old!- thrive in the kitchen and share their creations with you. This is a family restaurant operating since 1923. It was one of the first restaurants that opened in the area and keeps its traditions and authentic character unspoilt as time goes by. Highlight: The blackboard on which the menu is presented with consecutive variations on a daily basis. Open daily from 11.00 am till late. Prices start at €15 / person (for reservations call 27330 54205)
Top Secrets
1.
At a mere 5 minute drive from Gerolimenas, you will find taverna Alika in the homonymous village. The locals are the only ones who can direct you there since it is not mentioned in any travel guide. Enjoy a beautiful village setting with small tables placed at the stone-paved school yard and feast to its menu of local delicacies and grilled meat. For more information please call 27330 55285.
2.
At the church yard of village Stavri you will find the most picturesque rotisserie. The locals love it for its small, simple and tasty dishes, as well as for its ample authenticity and hospitable service. You will adore it for its mouth-watering meat which the owner grows in his private farm. Make a note that the rotisserie is open only for dinner. For more information please call 27330 51910.
* Prices are per person and do not include drinks.