Chalepa quarter
Visit Chalepa district which is clearly the most aristocratic quarter in Chania. Take a pleasant afternoon stroll and spot the grand mansion houses within large gardens with palm trees.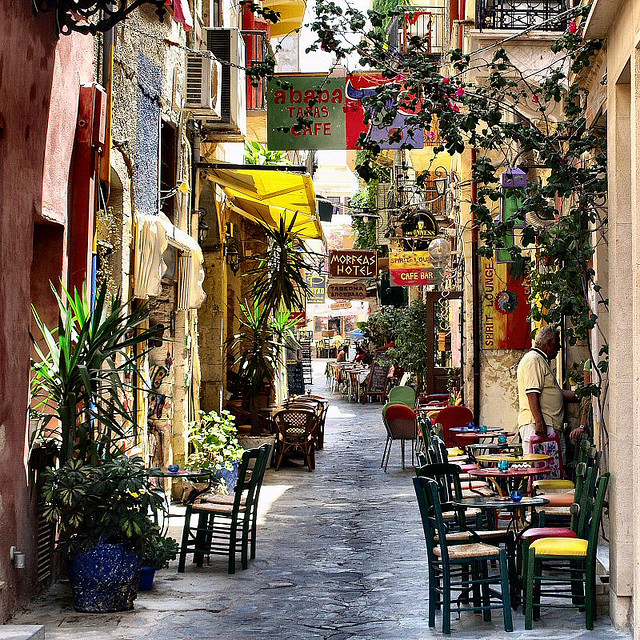 Photo: Flickr_Atli Harðarson
Epea Pteroenda cafe
Small and very cute café with fanatic regulars and walk-ins who are attracted by its colorful and funky décor. Enjoy a refreshing beverage on the go or pick a table at the sidewalk outdoors during the summer months. Address: 9,Kanevaro street, Chania.
Meden Agan
1.200 wine labels from across Greece and around the world, wine accessories and exquisite accompanying flavors. Join the owners and wine connoisseurs for a wine tasting evening or make an appointment for the tour (2-8 persons) in the history and the varieties of Greek wine through tastings. Address: 70,Daskalogianni street, Splantzia district, Chania. For further information, call 0030 28210-27068.
Oneira Glika (Sweet Dreams)
Known and appreciated for its strawberry tarts and lemon pies, this French styled patisserie offers the best in pastry, cakes and Valrhona chocolate. Try the bitter chocolate with passion fruit, the candied strawberries with mandarin mousse and milk chocolate, the praline parfait and whatever else catches your eye! Open daily till 11 pm. Address: 93, Apokoronou street, Chania. For further information, call 0030 28210-51104