Conquered by many, Chania is marked by the presence of the Turks, the Jews, the Venetians, the British and the Egyptians in its past, something which renders it today a place of a thousand marvels ready to bewilder you. The Old Town is an amalgam of architectural styles streaming from civilisations and cultures altogether crowned by the distinct scent of basil emitted from charming yards. Chania is the definition of what we refer to as 'multi-culti'. Attracting like a magnet it is indeed ready to embrace whoever wishes to make it their permanent residence. Irish musicians, Italian cooks and French artists have shown a weakness to its beauty and in return they learned to drink 'raki' and play the Cretan 'lira'. It seems like a fair trade…
Old Town
Walking the streets of the Old Town of Chania you will discover its distinct 3 districts, Topanas, Jewish Quarter and Splantzia. Pure fascination will overwhelm you as you meander through its picturesque alleyways. The architecture, the squares, the numerous churches and the interspersed monuments will convey you to bygone epochs.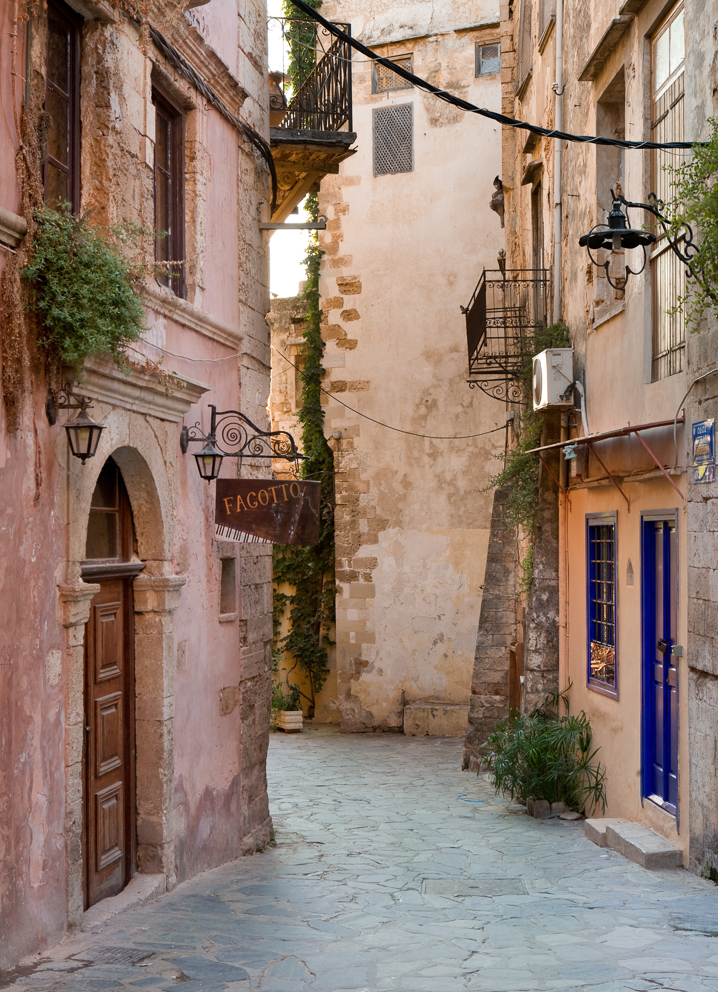 Walk along the street of Halidon and that of Zambeliou, as well as, the Betolo alleyway. Admire the church of Virgin Mary Trimartiri and pay a visit to the Archaeological Museum that is housed within the largest building ever built by the Venetians. Needing a rest? Enjoy your coffee at the numerous outdoor cafes and continue with some marvellous jewelry shopping. Alternatively, join the oriental bazaar and inundate the senses with intriguing colours and scents.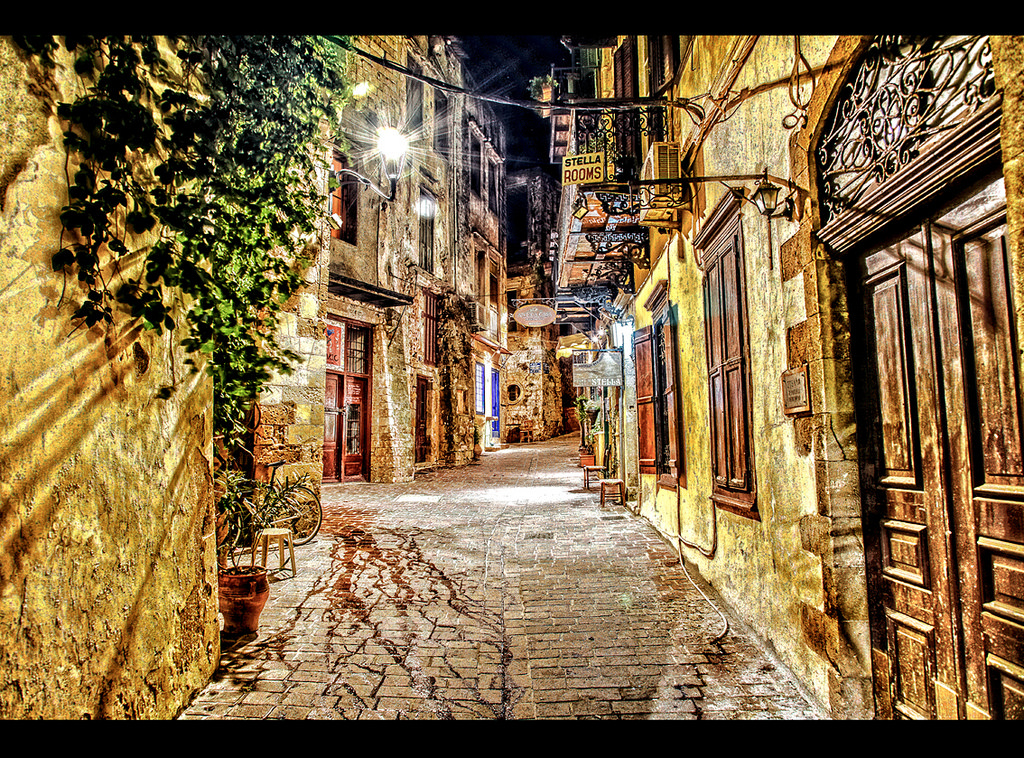 Photo: Flickr_piotr j
Koum Kapi
What was once a forbidden quarter with a somewhat 'dark' identity now manifests the latest trend for the town's youth. In the mid-19th century the area was a Bedouin village hosting two to three thousand African immigrants that worked as porters, servants and boatmen. Nowadays, Koum Kapi is a seaside area stretching east of the old Chania harbor and packed with fish tavernas, hip eateries, trendy bars and cafes attracting locals and visitors on a daily basis.   
Mosques and dockyards
The stone arched arcades at the seafront east of Chania harbour, are the dockyards which were created by the Venetian conquerors and were used for the repair or the construction of new ships. They are now called Grand Arsenali and after having transformed into a school, theater, hospital, the town hall etc they now house the Center for Mediterranean Architecture with a wide range of events, exhibitions and conferences. In your walks, you will find it irresistible to spot the mosques of Chania from a distance. Hünkar Camısı, Küçük Hasan Pasha Mosque, Yali Mosque…To see them from close up we approach the quarter of Splantzia, we give a go at smoking the hookah at café Constantinople and finish off with delicious 'chiounkar begenti' meat with aubergine purée at the Well of the Turk (Pigadi tou Tourkou).
Chania Harbour
Spreading between the Venetian Lighthouse and Firka fortress, this is certainly the busiest part of the coastal front cherishing ample history and fascinating images. Cafes, tavernas couples strolling hand in hand, children playing, stalls selling corn and all kinds of nuts…The lighthouse is not open to the public due to its sensitive structure but you can make it your starting point, pass successively from Akti Enoseos, Akti Tompazi and that of Koundourioti until you reach the other end of the large bay and the Venetian Firka fortress.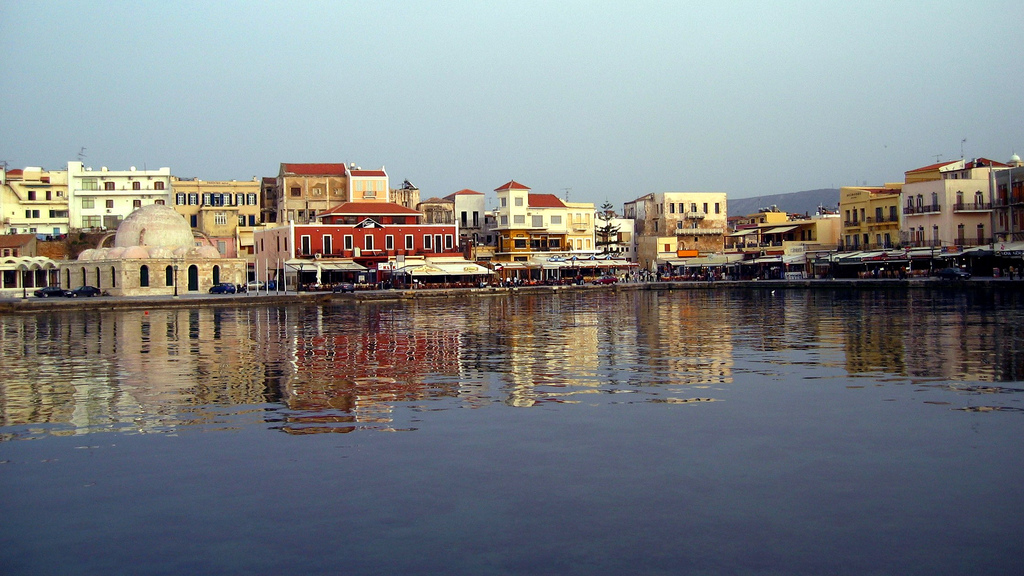 Photo: Flickr_Stavros Markopoulos
North coastal front
The coastal front between the western outskirts of Chania and up to Kastelli area is full of hotels and resorts, restaurants, stunning beaches and numerous beach bars and nightclubs. Visit the abandoned Pano Platanias village and admire old mansions and quaint alleyways. Back down at the beachfront choose Maleme and Gerani for your swims and a4 Kmstretch of fine sand. Even if you are not the partying type it is worthy to visit the areas of Ayia Marina, Platanias, Maleme and Gerani after dark too…at least once. 
Photo: George Lizardos
Akrotiri
Large settlement covering a circular peninsula north-east of Chania Town ideal for nature lovers and bearing numerous traditional villages, plenty of archaeological sites, unspoilt gorges, countless beaches, rocky bays and a hill range cherishing dozens of caves. Akrotiri is blooming of monasteries, churches and chapels worthy to discover, such as Gouvernetou Monastery. You may also like to visit Souda islet opposite. Alternatively, enjoy the impressive beaches of Kalathas, Stavros and Marathi and feast on fresh fish at the wide range of eateries.
Photo: Flickr_Theophilos Papadopoulos
Chania county beaches
You may find that you need a car if you wish to discover the tropical coasts of Chania, some of which are even further than 50 Km away from Chania Town…But, you must also know that the reward you will be receiving for your effort cannot be measured in words. Even describing the Caribbean-like beaches of Chania yields to curiosity. Falassarna, Balos, Elafonisi -to mention just a few- will fully compensate you with their endless blue and their billions of golden grains of sand. Most beaches are well organised and almost all have been awarded with a blue flag year after year, after year…
Photo: Flickr_Anastassios Fourikis
Southern side of Chania county
Souyia, Paleochora, Sfakia and Gavdos island opposite can only be discovered if you are eager to be located in unique surroundings…Rent a jeep and be prepared to take dirt roads to reach the exquisite spots on the wild side of the county. Explore isolated villages and incredible beaches at ease. Allow a few days ahead and pick a place to camp over night with the sole company of the stars and yourselves. For an authentic feast of Cretan food with gorgeous views, pick a table at "Sholio" (tel: 0030 28230 83001, prices range from 10 to 15 euro/person). Last but not least, take the small boat from Sfakia to the southernmost tip of Europe, Gavdos island, and truly experience what paradise on earth signifies.