The seven-island complex of the Ionian Sea produces exclusive products which you will only find while visiting them. So...get ready for a shopping spree which will include delicious 'Eglouvi' lentils from Lefkada island, beautifully embroidered fabrics, 'mandolata' patisserie and salami from Zante island, kumquats from Corfu island, glorious wines from Kefalonia island and a plethora of other special products that we will let you discover while you are there!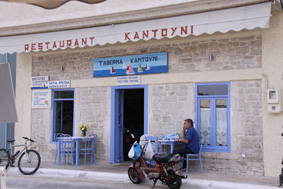 Traditional Embroidery in Lefkada
Especially in the mountainous villages, embroidery is considered to be an art. You will love the elaborate embroidered fabrics which will beautifully decorate your house back home and remind you of your holiday there. Try Eleni's store, in the main square of Karia village. For information call Mrs. Eleni Zavitsanou at 2645041316.                                                             
Lefkada island salami
Visit the store of Delimari if you want to buy the authentic Lefkada island salami. Fresh, delicious and spicy, the owner will guide you to hung it for at least 2 days outside so that is gets dry and then cut it in slices and serve in the company of some red or white wine...formidable! Delimari store, 8th Merarhias street, for info call 26450-23431.
Corfu ginger beer
This non alcoholic but very toning beverage was introduced to the island by the Brits in the 19th century, but even nowadays it constitutes an all time favourite for children and grown-ups alike. Its main ingredients are fresh lemon juice, sugar and ginger and you will find it at any supermarket, liquor store or cafe in Corfu island.   
Corfu kumquats
It belongs to the fruits of citrus trees and it is quite rare to find. The Chinese call them kumquats and the Greeks also refer to them as golden oranges. The fruit makes a delicious liqueur but also a very special traditional sweet preserved in syrup. 
Zante island sweet pastry called 'mandolato'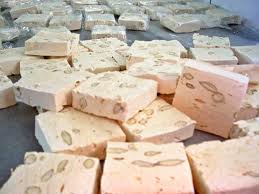 The ingredients of 'mandolato" are crispy, freshly baked almonds, honey, sugar and egg whites. The Venetians brought it with them in the past and it now constitutes the traditional sweet of Zante island. Do try any of the three listed here, asking them with their Greek name of "mandolato", "mandoles" and "pasteli" at any point of sale either that is a patisserie shop or a kiosk in the streets of Zante island. To spot the good quality "mandolato' and pick the freshest, the elders suggest that it must be white in colour and very firm. As far as 'mandoles" is concerned, they are caramelized baked almonds which you can buy from any small scaled local producer, such as from "Zakinthos" shop, 5 Psaron street. For information call 26950 28717. 
Perfume shopping spree in Zante island
It is not out of chance that the Greeks also call Zante the "Flower of the East". The island has a distinct and apparent relationship to perfume making. The varieties of Jasmine Sambac – a jasmine plant brought from India – grows in abundance in front yards of most houses in Zante and they are highly used for the creation of fine perfumes, which you however, may find old fashioned. In case you want to try them, visit Razi perfumery in the heart of the main town. 17 Alexandrou Roma street.