The region of Epirus is well known for its production of quality meats and for its great variety of cheeses, such as the white 'feta' cheese, galotiri, metsovone etc.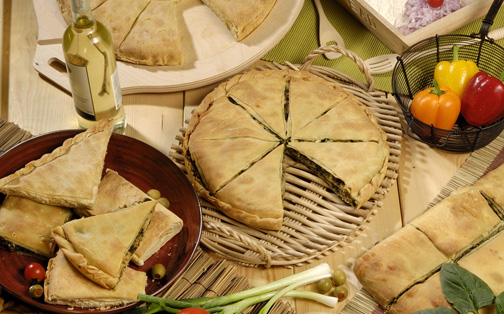 All tavernas and restaurants honor the local farmers and producers. This is the area where you will also taste a plethora of savory pies, such as the 'blatsaria' with fresh greens and herbs, the mushroom pie, the pumpkin pie and many more. For meat lovers do not omit to try the local delicacies of 'kokoretsi' and 'kondosouvli' grilled on charcoal. The main square of Metsovo village is a good place to start from. 
The city of Ioannina is equally famous for its sweet pastry and a great variety of sweets in syrup that are prepared in large baking pans. Do ask for the freshly baked sweets of 'baklava', 'galaktoboureko' and 'saragli'. The city offers food amenities that will cover all tastes since there is availability of even Italian and Mexican cuisine.
If you want to stick to Greek cuisine, then visit any of the tidbit bars and accompany your chosen delicacies with a strong drink of 'tsipouro'.