Rhodes island is a relatively self sufficient land and produces most of its products locally. In your visit, you will have the chance to taste numerous tantalising recipes created with locally sourced meat, cheese and vegetables, as well as fresh fish caught the same day. Ask to try the savoury thin pie with fried onions named "kremidenia" and the dish called "fakorizo" which is lentils with rice. The local traditional sweets of "melekounia" with honey and sesame and the "ritseli" which is preserved fruit in syrup will absolutely delight you. In Rhodes you will be spoilt for choice of restaurants offering "haute cuisine" and gourmet dishes by chefs. Bon Appétit!
Suggestions
Avalon Restaurant
Avalon Restaurant is situated in Avalon Boutique Hotel and you will find it in the heart of the medieval Old Town of Rhodes. The cook, Mrs Chryssoula, who is also the mother of the owner, prepares delicious traditional home-made dishes on a daily basis that will get you acquainted with what the locals eat! Apart from local delicacies, Avalon restaurant offers a selection of Greek creative dishes too. To your advantage, do not hesitate to ask for something in particular! The cook will adjust her culinary abilities to suit your tastes with great willingness. The restaurant has both an internal space and an external yard which we most certainly recommend especially for the summer months. Open daily between 12.00-00.00. Prices start at 20 € / person (medieval Old Town of Rhodes, for reservations call 22410-31438, www.avalonrhodes.gr)
 
Melenos Restaurant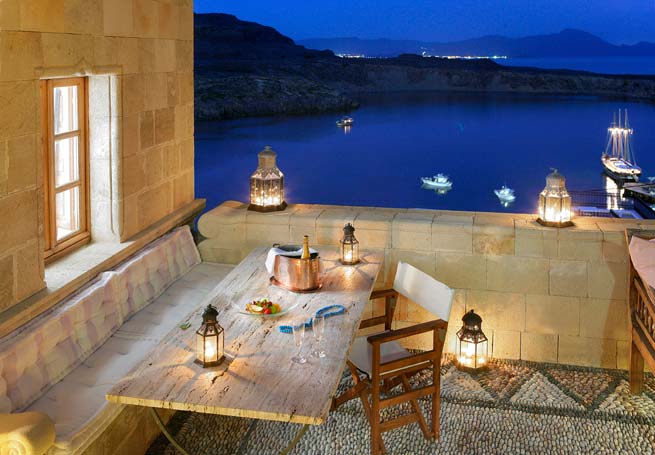 Every connoisseur of what "good taste" actually is, must absolutely try the cuisine of Melenos Restaurant which is part of Melenos Lindos Luxury Suites Hotel, located very close to the Acropolis of Lindos. The experienced executive chef Gogo Nikolakopoulou, prepares and suggests dishes of Greek and Mediterranean creative cuisine, all of which contain the freshest ingredients and a plethora of aromatic herbs straight from the garden. Melenos Restaurant offers a wide range of fresh fish, as well as, freshly cut elaborate salads such as the prosciutto salad which you must definitely try! The chef likes to experiment with the traditional desserts by adding her personal creative touches. The wine list gives an emphasis to the locally produced wines but also includes popular Greek labels and international ones. Among the restaurant's highlights is the cocktails served with amazingly fresh fruit juices. In case the weather conditions don't allow the use of the external terrace with the breathtaking views, then the 'Fouli' food hall indoors is also at your disposal. Plus: Lunch and dinner menus are distinctly different from each other. Open daily between 12.00-16.00 & 19.30-23.00. Prices start at 25-30 € / person (Lindos area, for reservations call 22440-32222, www.melenoslindos.com) 
Mavrikos
Mavrikos restaurant is located at the picturesque central square of Lindos and constitutes one of the best restaurants in Rhodes. The owners have a family tradition in the culinary arts, as the owner's grandfather - Mr. Michalis Mavrikios - opened the first ever bistro in Rhodes and the father used to be a chef in Grand Bretagne Hotel of Athens. Over the years, Mavrikos restaurant has acquired a special place in the hearts of the locals and nowadays the award winning chef Dimitris Mavrikos (Greek gastronomy Toques d' Or Awards) is thriving in its kitchen. The exquisite chef, who is also the brother of the owner, executes imaginative recipes in a simplistic way in order to yield a fantastic outcome! Highlight: the amazing external yard of the restaurant. Open daily between 12.00-00.00. Prices start at 20 € / person (Lindos central square, for reservations call 22440-31232). 
Ntinoris
A legendary and very cosmopolitan restaurant located in the Old Town of Rhodes, which has been sharing the culinary arts with locals and visitors alike for many years, as well as a magnetising venue for a number of celebrities. The restaurant is hosted in a medieval building of the 14th century and it is famous for its fresh fish, its elaborate sea food dishes and the mouth watering seafood starters that will leave you speechless! Tables are set in its beautiful yard when the weather is good. Open daily between 12.00-00.00. Prices start at 30 € / person (Old Town of Rhodes - Museum Square, for reservations call 22410-25824).
Thavma en kairo

If you are interested in trying the gourmet dishes, prepared and served the Rhodes way... then you must definitely make a reservation at "Thavma en kairo" in the new Town of Rhodes. The venue offers a very cosy ambience, twined with a very elegant decor and the most impressive menu of Mediterranean French cuisine. Its exquisite haute cuisine alongside the cute yard will certainly make you a repeating customer! Its wine list and the cocktail menu make a clear statement and you will not be disappointed by the size of the portions. Open from Monday to Saturday between 19.00-00.00. Prices start at 25-30 € / person (16-18 El. Venizelou street, for reservations call 2241039805).
* Prices per person do not include wine or other drinks.