The Rhoman Odeon was constructed between the 1st and 2nd century AD and its purpose was to host music competitions and the Senate's sittings. After a process of restoration, it nowadays hosts a plethora of cultural events.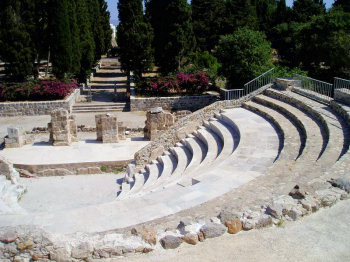 Swedco Cafe is based on the concept of Swedish mentality and where we will be served with high quality confectionery, sweets and cakes ideally as part of our evening walk. Open all day, it offers a rich breakfast in the morning as well as coffees, fresh juices and sandwiches later on in the day. 20 Vasileos Pavlou avenue. For information call 22420-24154. 
Platani village will not just attract us for its exceptional tavernas and its tantalizing oriental dishes...It is highly probable that we will get addicted to 'Paradosi' confectioners which specializes in oriental sweets and a variety of preserved fruits in syrup such as 'tomataki' for which Kos island is famous. Do ask for the following with their Greek name: 'kazan dipi', 'kataifi' and 'kiunefe'. Mastic flavored ice cream will also fascinate you. For information call 22420-21490.