Let the island of Kos take you to a voyage of highly diverse culinary delights. This large island of the Dodecanese complex has it all...from Italian cuisine and fresh fish, to kebabs and locally produced fresh meats. Opt for the villages by the sea for mouthwatering seafood delicacies, such as octopus balls and baked fish and, alternatively, head to the mountainous villages for meat feasts. Being so close to the Turkish west coast, Kos island gastronomy is obviously influenced by the tastes of Asia Minor, thus, it presents elaborate eastern dishes like yogurtlu and kebabs. The town of Kos offers an immense choice of restaurants for Italian, Mediterranean and traditional Greek cuisines.  
Suggestions
Cuvée Restaurant
A romantic option for fine dinning and wining within Aqua Blu Hotel & Spa. Mediterranean cuisine at its best with views to the swimming pool, elaborate chandeliers, hidden lightings and candles within a beige and black decor. Do try Cuvée's gastronomical creations such as the grilled salmon and crab salad on fresh herbs to mention just a few. Equally interesting for its extended list of wine labels. Aqua Blu Hotel, Lambi beach, Kos island, for reservations call 22420 - 22440, prices range between 15-45 euro per person.
Evdokia 
The owner's mother takes over the restaurant's kitchen and thrives with traditional, homemade dishes. Do try the rooster in wine sauce, the pork with celery, the staffed chicken and the starters of eggplant in cheese sauce and zucchini tips staffed with 'feta' white Greek cheese. Every Saturday the restaurant hosts a Greek feast with live music. Open all year round.13 Bouboulinas street, Kos island. For information call 22420-28525. Prices range between 10-14 euro per person. 
Petrino
Owned by the 3 brothers George, Pandelis and Michalis this restaurant counts over 40 years of presence on the island and abundant culinary experience clearly describes its tantalizing menu. Staffed figs with prosciutto and roquefort cheese, breaded chicken with almonds, monkfish in garlic and other dishes that don't miss out on imagination. Witness the apotheosis of Greek ands Mediterranean cuisines in the surroundings of a beautiful rose garden. Ioannou Theologou square, Kos island. For information call 22420-27251. Prices range between 15-25 euro per person.
Barbouni
Brand new restaurant which quickly became the favorite option for fish with an ideal setting right next to the seashore. This is where we will be served the freshest fish alongside other seafood dishes such as, prawns in rich tomato sauce, 'midopilafo' which is mussels in rice and other mouthwatering handmade side dishes. 26 Averof street, Kos island, for reservations call 22420 - 20170, prices range between 16-25 euro per person. 
Spitaki
You will be enchanted with its Italian styled decors and the small tables right next to the sandy sea shore. The Italian chef has managed to create a group of fanatics for the exquisite menu which presents us with a variety of Italian, Greek and Mediterranean dishes without omitting fresh fish. 9 George Papandreou street, Kos island, for reservations call 22420 - 27655, prices range between 22-30 euro per person.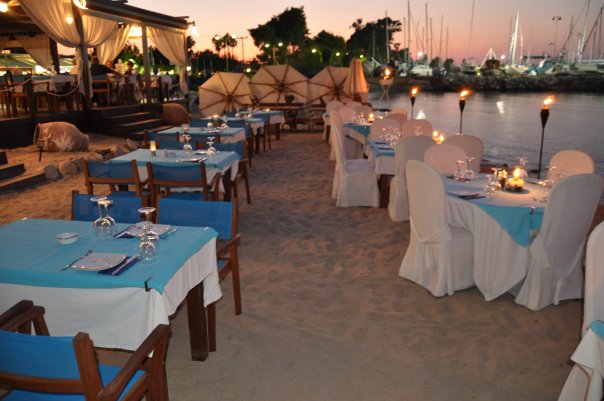 Arap
Arap restaurant has been bewitching its customers with its Greek and Turkish cuisines since 1955. All dishes are based on both cultural traditions making it impossible to resist to the menu's 'bourekakia', yogurtlu kebab, ishkender, Smyrna meatballs and 'dolmadakia' which are wine leaves staffed with rice. Platani village, Kos island, for reservations call 22420 - 28442, prices range between 10-18 euro per person.