The island of Sifnos can satisfy your every culinary need, it offers picturesque tavernas by the sea side, impressive Cycladic tasteful hang-out-places in Apollonia and gourmet restaurants with dishes from all over the world. It is the birthplace of the famous chef Nikos Tselementes. It holds the cuisine relationship unchanged and is the most delightful example to follow. Do not miss trying traditional recipes, without renouncing the most creative approach. Committed to pure ingredients, Sifnos takes cooking to another dimension.
Proposals
Vatrahia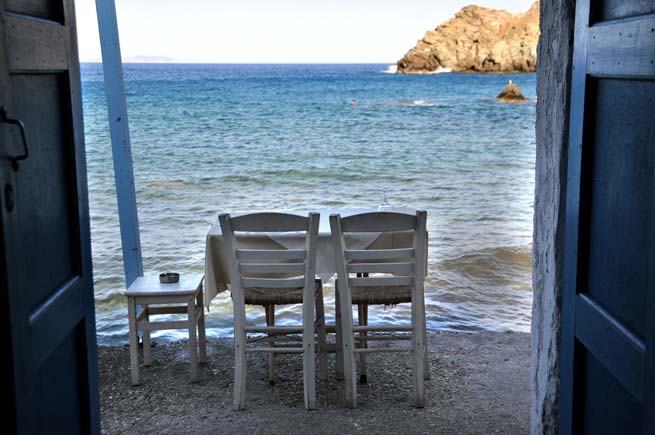 The famous restaurant of the Kastro region, Vatrahia, decided to say "farewell" to Seralia beach and "move" permanently to Platys Gialos. So, you can find the successful team and the well known hospitality under the atmospheric Cycladic "roof" of the Verina Suites Hotel! By the pool, the water element is featuring and makes you fantasize of the beautiful beach, which is only a breath away. Oil tree colors break total white and the recipes… from the seas of the world, are not only a strong asset for the hotel but also the island's top news! Comfortable sofas and cushions are what you need to enjoy a cooling cocktail until you get to your table and surrender to the sea food cuisine with influences from all over the world and love for pure Cycladic products. Its wine list satisfies even the most demanding customers, while the chef and sommelier Floretta Psimadis, with her experience, knowledge and good will, will surely lead you to the right choices! Among the must have of the menu is the ceviche (spicy fish carpaccio from Peru), steamed mussels, squid with honey and soya sauce, potato salad with honey and yasabi and also the "to die for" pavlova and the bitter chocolate cake with ice cream and white chocolate mouse, with yoghurt, peach jam and pistachio! Behind every "tasty treasure" you will find the creative sous chef Victor Balfousios, who elevates pleasure with his creations. Highlight: the BBQ Corner with fresh fish of your choice. You can watch during preparation! Daily 12.00 -01.00. Starting from €20/ person (no drinks included) (Platys Gialos, tel: +30 22840 33047).
Cayenne
The island's faithful visitors will be (pleasantly) surprised by its move from the roof, where it was located, to the wonderful yard of a total white Cycladic house among the alleys of Apollonia. Red and white colors are perfectly matched in a place that the Cycladic style is taken to another dimension and flavor marries perfectly with Art. Nikos Neroutsos and his wife, Michaella, have created a highly theatrical setting and offer every gourmet palate Mediterranean cuisine based on pure raw materials and sprinkled with doses of infinite imagination. From the menu we separated the "Cayenne" salad, the cheese fritters with raspberry sauce, the veal fillet with cayenne pepper and the sea bass fillet with grapefruit. Highlights: The exhibitions hosted in the restaurant area stress its artistic character even more. Daily 14.00 – as late as it goes. Starting from €18/ person (Apollonia, tel: +30 22840 31080).
Mamma Mia
Perfect choice for the lovers of genuine Italian cuisine. Mamma Mia is for years now one of the best food proposals and it is the first Italian restaurant that Pippo Miano founded in Platys Gialos 24 ago! His son, Andrea, will leave you speechless with his "creations" and will travel you to the neighboring country. Highlights: the pizza and pasta varieties. Do not forget the daily special. Daily from 17.00 (Apollonia) / from 13.00 (Platys Gialos). Starting from €15/ person (Apollonia, tel: +30 22840 33086/ Platys Gialos, tel: +30 22840 71219).
Okyalos
In the "Strait" of Apollonia, the restaurant Okyalos offers meticulous proposals for Mediterranean and local cuisine. It is renowned for its indigenous raw materials. For 12 years it is famous for its wide selection of products, local meat and fresh fish. Among its "strong assets" are the veal fillet with porcini, mastello (traditional oven baked lamb), the kebap and the swordfish (either on a skewer or as a fillet). At the end of your meal the handmade dessert list with panacotta and chocolate mousse can leave you speechless. Highlight: The ceiling of 1820 in its interior space causes the admiration of anyone who confronts it. Daily 18.00 -03.00. Starting from €14/ person (Apollonia, tel: +30 22840 32060, http://okyalos-sifnos.g)
Traditional Flavors - Tavernas
In addition to the attentive restaurants it would be wrong not to integrate the wonderful tavernas into your program. You will visit the "Ariadni" to tempt you with delicious Greek and Mediterranean flavors (the veal with olives and capers and homemade orange pie should not be missing from your table). It is located right by the sea side. Daily 12.00-01.00. Starting from €12/ person (Platys Gialos, tel: +30 22840 71277). In Platys Gialos a very good choice for dishes of Greek insular cuisine is the tavern named "To Steki". Daily 12.00 - 00.00. Starting from €12 - 15/ person (Platys Gialos, tel: +30 22840 71215)
When you find yourself in Artemonas prefer the sublime "Perivoli". Housed in the old olive press of the owners which is now turned into a taverna and has a list of inspired dishes that give importance to pure raw materials. Highlights: its delicious desserts. Daily 18.00-01.00. Starting from €12-15/ person (Artemonas, tel: +30 22840 31045).
When you find yourself in Kamares prefer "Argyris" for its grilled meat (Daily 12.30 – 00.00. Starting from €13/ person, tel: +30 22840 32352) and "Kapetan Andreas" for its fresh fish and lobster (Daily 12.00-00.00. Starting from €10/person, tel: +30 22840 32356). Both of them are well known for their traditional cuisine. 
*Prices per person do not include drinks.