The gastronomy of the island is as rich and varied as to that one would expect to find and taste in a large European city. Gourmet restaurants presenting international and Mediterranean cuisine, Greek tavernas, ethnic corners, tratorias and many many more coexisting and covering all tastes within the Mecca of Greek tourism. Of course, this is where you will be spoilt for choice of fresh fish the Greek way…In any case, there are multicultural spaces offering dishes from around the world with a variety of elaborate cuisines (Thai, Japanese, Lebanese etc) and a plethora of stylish, seaside bar restaurants serving tantalising light tastes to keep you next to the wave all day long.
Suggestions
Elia
Very known restaurant located on the homonymous beach, known for its delicious recipes and the fact that it uses only Greek products and fresh ingredients. Awarded chef Rena Toyia thrives in Elia's kitchen creating top Greek dishes. White tablecloths on square tables right next to the shore make it an irresistibly beautiful place to be. Taste the fragrant, wine leaves staffed with rice, the roast lamb garnished with freshly cut potatoes and the variety of handmade pies.
Address: Elia beach, Τel. 0030 22890-71204.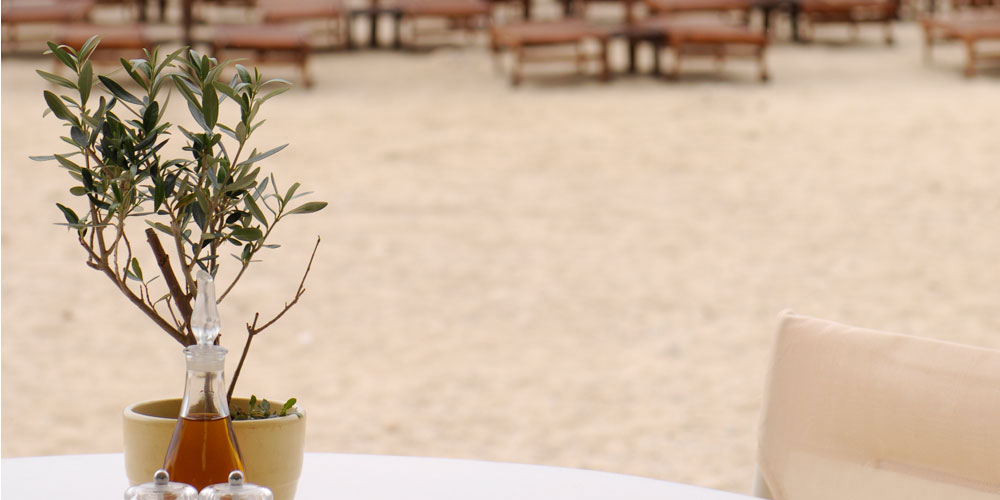 Nice'n'easy
From Kolonaki quarter in Athens to the beach of Kalo Livadi in Mykonos: the known Athenian bio restaurant changes setting in the summer months and moves right next to the sea shore in a beautiful spot where the colors of white and blue play the protagonist role. Apart from its known dishes, such as the famous bio burger, you will also taste specialties made with locally sourced products, such as the spaghetti toped with a Myconian recipe of cheese cream, salmon tartar in cuttlefish ink sauce etc.
Address : Κalo Livadi beach, Tel. 0030 22890-72315.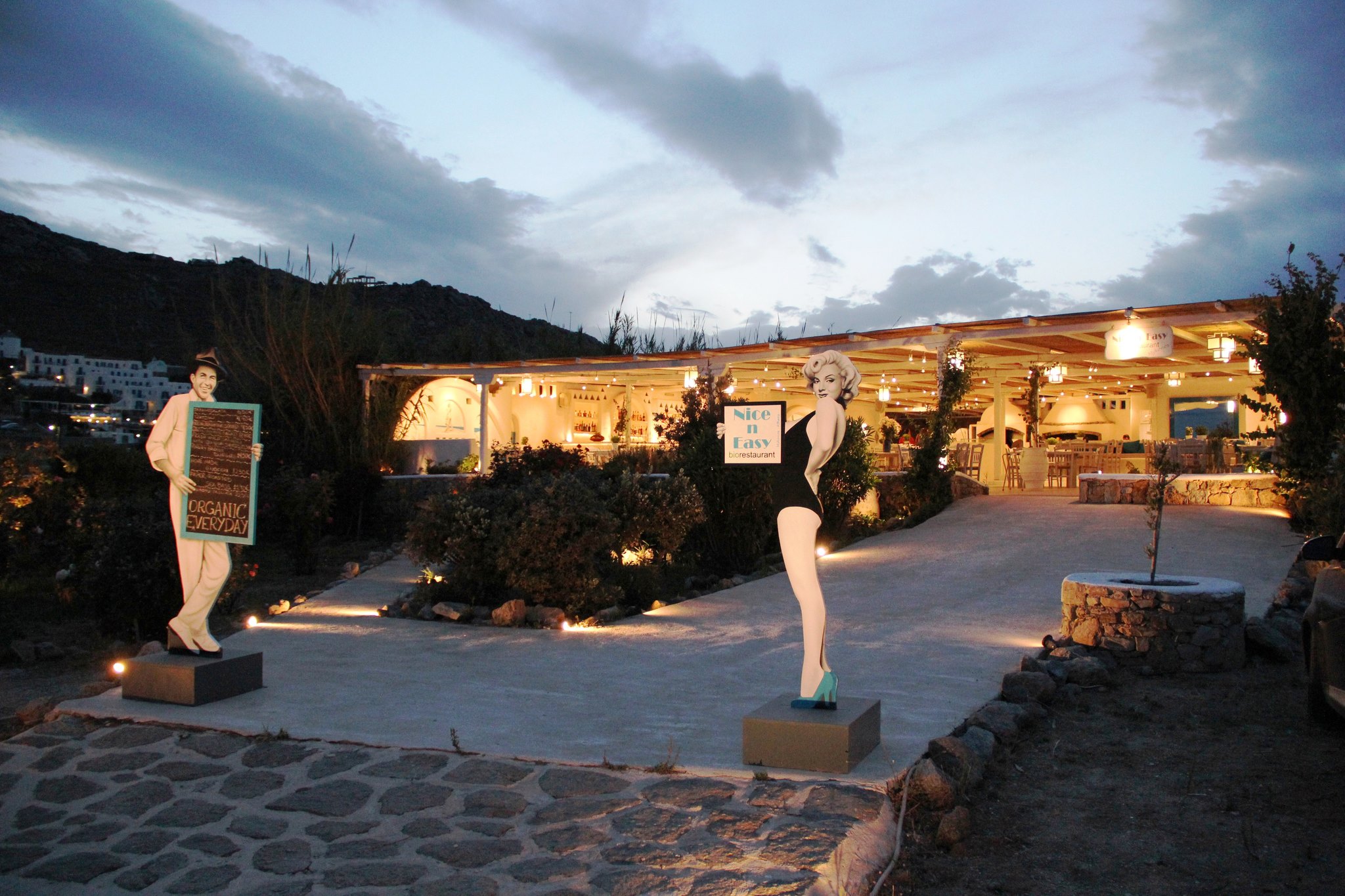 Κoursaros
For the past two years, Koursaros restaurant has managed to gather a great number of fanatic friends. Located in the Chora of Mykonos it is distinguished for its unique aesthetics and decoration and for its top quality food. Select a cozy table at the yard and indulge in a dish of delicious spaghetti or a risotto with sea foods, small prawns, fresh lobster and the catch of the day always cooked on a charcoal grill.
Address : Chora, Tel. 0030 22890-78140. 
Marechiaro Pizza
Brand new pizza tratoria which opened in Spring 2013. Repeating customers and hundreds of passing-by clients cannot resist its delicious pizza baked in a traditional wood stove! Most of the vegetables and the herbs used for the pizza creations are grown at the back garden of the tratoria, while most of the ingredients, such as the mozzarella for example are ordered fromItaly. The Italian pizzaiolo bakes light and thin crusted pizzas using his best tricks day in, day out.
Address: Mykonos peripheral road, Tel. 0030 22890-23010
Nammos
Impressive Nammos is located in Psarou beach and has been operating since 2003, certainly constituting one of the hot meeting points in Mykonos. Τhe beach bar and restaurant are situated right next to the sea's sandy shore while its events and parties are legendary. The cuisine creations are strictly made of the freshest ingredients: vegetables from the island's fields, Black Angus meats, oysters from France and fresh fish from theAegean Sea.
Address : Psarou beach Tel. 0030 22890-22440.
Hippie Fish
From summer 2013 onwards we will be coming even more often to the area of Ai Giannis for lunch and dinner in order to indulge in the tantalizing Italian dishes of chef Fabrizio Buliani.
Address : Ai Giannis beach, Tel. 0030 22890-23547 
M-eating
Hosted in a traditional Mykonian building dating back to the beginning of the last century, the restaurant boasts an amazing interior space, as well as, a lovely veranda and a garden. Chef and owner Panagiotis Menandros presents a menu of Mediterranean tastes prepared with locally sourced products and an ethnic touch. Do try the crayfish tartar with ouzo, the barley pasta with spinach pesto, the veil rib eye and the sea bass fillet.
Address : Chora of Mykonos, Tel. 0030 22890-78550. 
Eat Local - Mamalouka
Mamalouka's culinary concept is based on eating locally prepared meals in using Myconian ingredients, through a Mediterranean creative expression.
Address : Chora ofMykonos, Tel. 0030 22890-23505.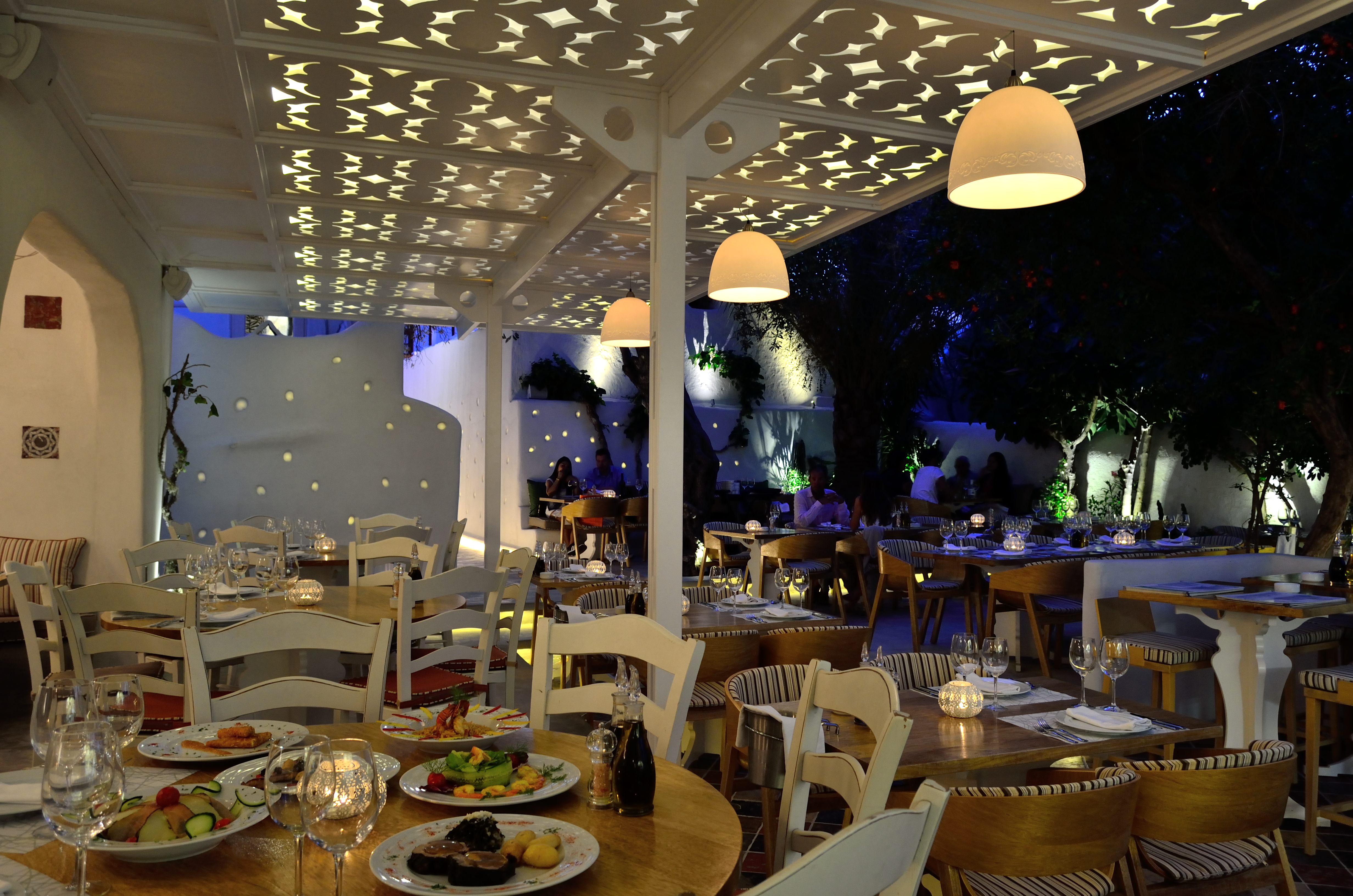 Uno Con Carne
It certainly made an appearance on the island of Mykonos when it opened as an Argentinian steakhouse. Its fillets, black angus ribeyes and fresh salads made it famous and loved. Especially when it added an Oyster Bar in the same space, it attracted an even larger crowd. Clams, oysters, shrimp, lobster fillet and fresh fish are its main dishes. The restaurant's lounge bar offers refreshing cocktails and has been awarded as one of the best.
Address : Chora of Mykonos, Tel. 0030 22890-24020. 
Stil Piato
Located in the neighborhood of Kastro within the main town, this restaurant strictly offers Greek dishes in the company of Greek music. Worthy to see how the Greeks are having fun, since you will not just go there to eat but also to join a live Greek music party.
Address : Kastro in the Chora of Mykonos, Tel. 0030 698 668 8440. 
Guilty Beach
Located in Panormos beach it boasts an impressive, large swimming pool, a gourmet cuisine, an exquisite wine list selected by sommelier Giorgos Loukas and a very interesting cocktail menu which altogether make it the perfect Mykonian setting for dining and wining in style.
Address : Panormos beach, Tel. 0030 6940 438 600.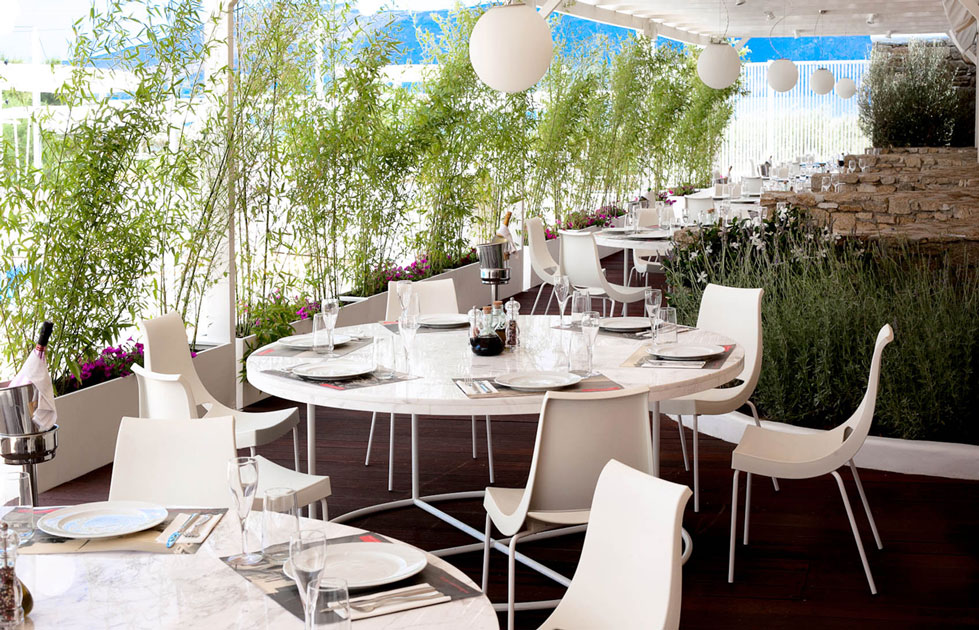 Pearl Harbor
Fusion Japanese cuisine at its best serving delicious sushi at the heart of the main town of the island. A splendid sushi & cocktail bar indeed, that will successfully convey you to the East through its original cuisine and its décor.
Address : Matoyiania, Tel. 0030 693 6125116.