While visiting the island, you will find out that its gastronomy constitutes yet another temptation…There are unique varieties of cheeses which you can taste while eating out but also buy them and share them with your friends back home. Plenty of local dishes will whet your appetite, so do ask to try them by their Greek name: "revithokeftedes" which are fried cheek pea balls, "stavridia bourgeto" which is fish cooked in tomato sauce and vinegar and, of course, the "tsimetia" zucchini stuffed with rice.
Like other Cycladic islands, Ios produces a variety of local wines which we insist that you try. As far as sweet tastes are concerned, the sesame snacks called "pasteli", the sweet cheese pies named "mizithropites" and the almond cookies called "amigdalota" will all complete a tantalising meal.
Suggestions
Agosto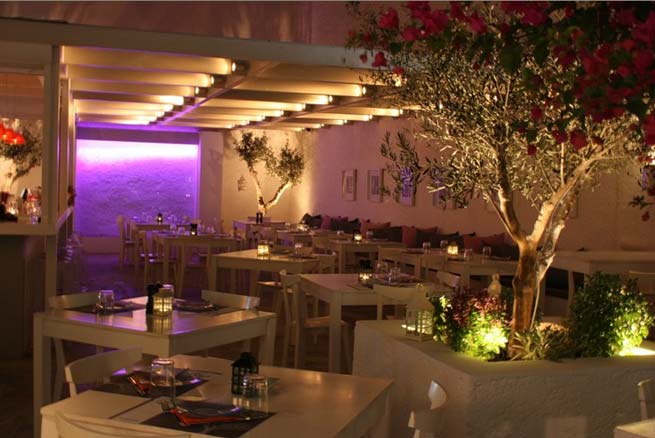 This is by far the best suggestion for dining and wining in style in the heart of the main town Chora. You will find it within the labyrinth-like alleys and it will constitute your discovered oasis, ready to spoil you with its great food, its relaxing musical background and its elaborate wine list. Its modern décor is accompanied with romantic touches. Its outside yard will absolutely fascinate you and its friendly staff will be willing to guide you through the excellent food choices of Mediterranean cuisine, inspired and prepared by the chef Manolis Ragoussis. Do not omit to order the delicious handmade ravioli, as well as its famous desert, the calzone al ciocolato! Prices start at €15-20/ person (Chora, for reservations call 22860 92020, www.agosto.gr). 
Lord Byron
This is a bar-restaurant located in Chora which will bewilder you with its impressive ethnic décor and its exquisite Mediterranean cuisine. Prices start at €15-25 / person (Chora, for reservations call 22860 92125).
Taverna Drakos
This is the oldest family taverna in Mylopotas beach and constitutes the ideal choice if you want to have fresh fish and sea food dishes. Its menu also includes a selection of local delicacies and other home-cooked dishes which you can enjoy at a beautiful setting right next to shore. Prices start at €20 / person (Mylopotas beach, for reservations call 22860 91281, www.drakostaverna.gr).
Katogi
The owners George and Theodora, will be glad to share with you their culinary delights in an unpretentious and friendly ambience. The restaurant is located in the heart of Chora and you will discover it simply by the delicious emitted fragrances of Greek cuisine! The menu is so rich that you will find it hard to pick and choose. Whatever you order, do not hesitate to accompany your meal with the alcoholic drink of "rakomelo". Prices start at €10/ person. Open daily between 19:00 and 00:00 (Chora, for reservations call 6976 598659).
*Prices are per person and do not include drinks.