Congratulations!
You have successfully registered to TClub and you are now rewarded with exclusive benefits, to 31 boutique hotels in more than 25 Greek dreamy destinations.
 Please be sure to save and print your White Member Card and submit it, upon check-in at Trésor Hotels & Resorts.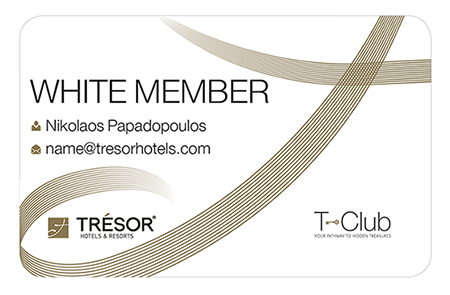 As a White Member, you are entitled to great benefits and even more rewards, at our Boutique Hotel Collection, from your first stay and you can see them here in detail. 

Additionally, you are privileged to get special discounts and exclusive benefits, to our Partners. Please visit this page, for more information.

ΤClub is an integrated Loyalty Program for the loyal and repeating guests of Trésor Hotels & Resorts. In Trésor Hotels & Resorts, we reward luxury travel lovers and life long memories seekers.

We will be delighted to contact us at +302108981884 or at tclub@tresorhotels.com.