Where history matches with cosmopolitan sparkle, where the Saronic meets Cote d 'Azur, where naval tradition becomes one with spiritual growth and vision, there exactly stands Poseidonion Grand Hotel. A landmark on Spetses island for over a century, this iconic hotel, a true jewel, still offers glamor to the island of scents.
In a preserved monumental building of rare beauty, reminiscent of the luxurious grand hotels of Côte d'Azur, Poseidonion Grand Hotel, conveniently located in Dapia port, takes you on a journey through time.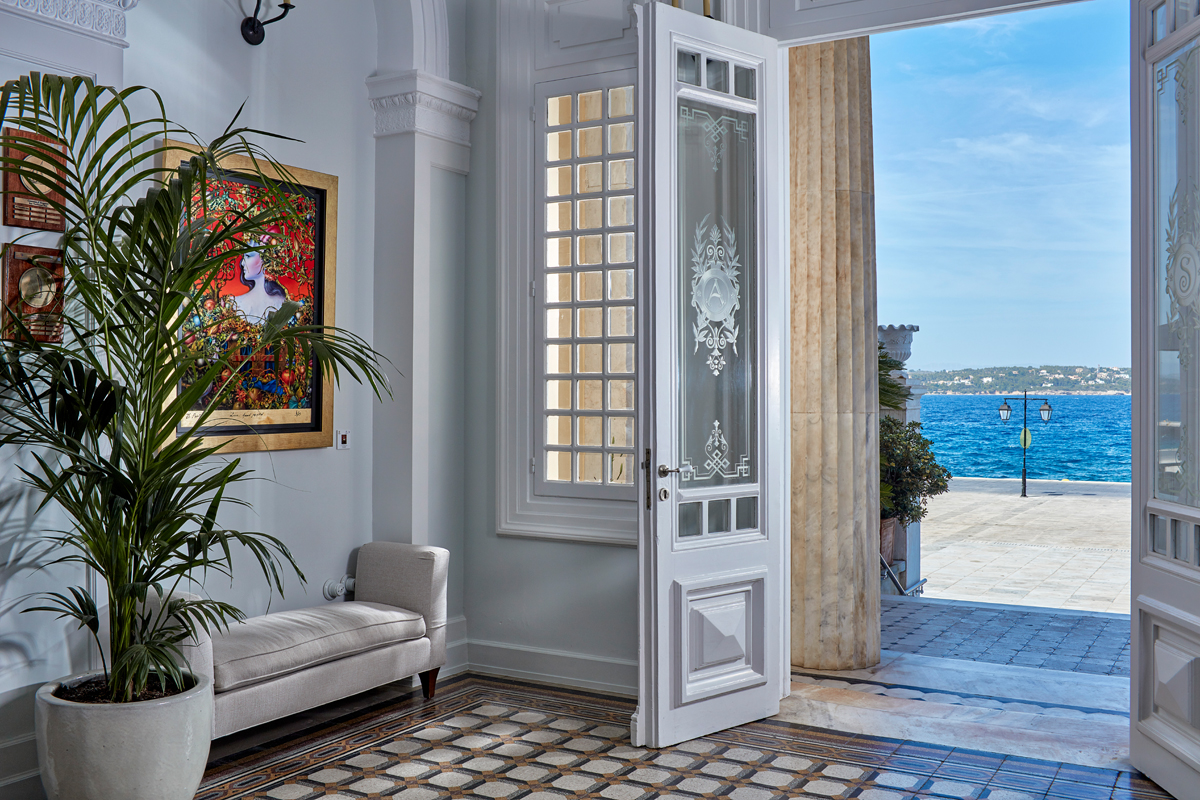 A century back, in the summer of 1914, the historic hotel Poseidonio, vision of Sotirios Anargyrou, a man of a glorious sea family and a close friend of Eleftherios Venizelos, that now is considered to be a national benefactor of Spetses, opened its doors for the first time in order to blow a cosmopolitan wind in the island. The vision of Anargyrou to make Spetses an 'aristocratic summer residence' became reality and it became the "summer residence of fashion, the Trouville of Greece, the dream of those who breathe in the summer dust of Athens ", as written by the Greek writer Kostas Ouranis in 1925. Since then, Poseidonion was the center of wordly and political life, hosting members of high society, the royal family and rich Athenians, converting the island of Spetses into a top destination for the bourgeoisie.
Thanks to the love and devotion of Mr. Vordonis family, in 2009 Poseidonion Grand Hotel reopened its gates to welcome new travelers, after a five-year renovation, which aimed to develop modern infrastructure with respect to the original architectural plan of the building. The two buildings of Poseidonion Grand Hotel provide luxurious rooms and impressive suites that redefine hospitality and luxury, most with private garden or balcony offering stunning views of the Dapia port and the endless blue of the sea.
Poseidonion was the first hotel in Greece to offer spa services and Asian Spa Resorts, Poseidonion's new spa, defines once again the terms of absolute relaxation and well-being of the body, mind and spirit.
Poseidonion Grand Hotel, even now, a century later, is a leader in Spetses touristic development, with important initiatives and activities that promote the islands' tourism. However, it still doesn't forget the main reason for which it was created, fulfilling the dream of Anargyrou. To provide warm, authentic and luxurious hospitality.
Poseidonion Grand Hotel invites you to a journey through time. Admire Dapia port from your balcony thinking of Laskarina Bouboulina and the fights of Spetses people for freedom. Drink your coffee where once stood Eleftherios Venizelos. Enjoy your lunch or dinner at one of the hotel's four restaurants and travel a century back, when prominent Athenians had fun until the morning at the cosmopolitan events held at the hotel. Visualize, as once did Anargyrou, thinking that even the biggest dreams can come true. You are at Poseidonion Grand Hotel. Feel the hospitality and experience a unique holiday in the most historical and majestic country hotel in Greece for nearly a century.

TClub members enjoy a 15% discount at the face and body therapies in the Asian Spa Resort of Poseidonion Grand Hotel, as well as a 15% discount at all ila and Branch D'Olive products that are available at the Asian Spa of Poseidonion Grand Hotel or at the e-shop http://asianspa.gr/en/e-shop .