Take a journey with us, into a world of chic luxury, privacy and mesmerizing beauty at Conte Marino Villas, three exclusively built independent masterpieces designed by visionary architects Aristomenes & George Baroudakis. 
Strategically situated in Kontomari, a quaint and peaceful village in the area of Platanias in Chania, West Crete, Conte Marino Villas encapsulate the essence of traditional Cretan architectural building in today's modern world. Meticulously combining stone, marble, wood, glass, earth and metal, we have invited nature in, so that indoor and outdoor become one co-existing in harmony and peace. Such achievement in design, paired with furnishing's hand selected and exclusively designed by interior decorators, luxurious bedding and modern appliances throughout, set Conte Marino apart as the ultimate get-away destination in Crete.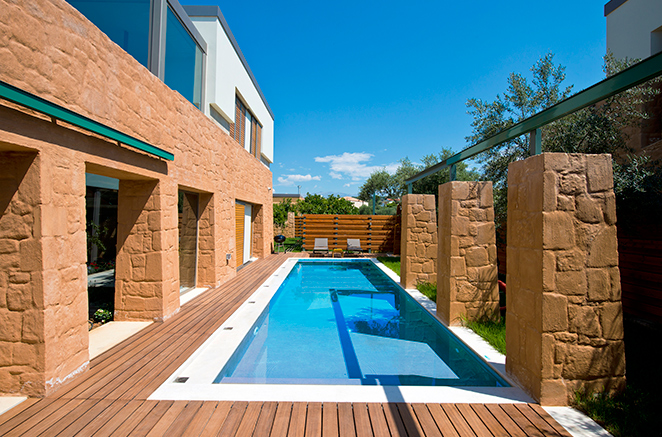 Privately surrounded by stone-walled courtyards, the Villas overlook the panoramic Cretan hills, vast olive and orange groves and the white Cretan Mountains. Reflective of this view, the Villas are built transparently with rich stone and flooded with natural light creating a peaceful ambience within. The ultimate place to relax and reflect. Our Villas offer anonymity, tranquility and beauty, all at your doorstep. Ideal for families, couples, newlyweds or business travelers with escape in mind all year round.
At Conte Marino Villas, our aim is to ensure that your visionary senses are inspired through intricate attention to detail. Even more importantly, that your highest expectations during your stay in any of our three exclusive Villas are met and surpassed, effortlessly. 
At the same time, Conte Marino Villas offer visitors the opportunity to enjoy Greek contemporary art in an aesthetically completed environment, as the villas are now converted into "Galleries", exhibiting art collections of the two famous Greek Artists. 
Also, Conte Marino Villas are the ultimate honeymoon destination in Crete, offering to all newlyweds the most ideal refuge for the beginning of their new life together. At the following video, enjoy the unique atmosphere Conte Marino Villas compose for all newlyweds.
OUR VISION
In the stress and routine of today's modern world, we dreamt of creating a living space that one could find solace in. A sacred sanctuary, an escape, to perhaps one of the most enchanting parts of the world, Chania-Crete. An island that has so much to offer one could not possibly grasp the entirety of its grandeur in just one visit. 

Inspired deeply from the architectural philosophy of our ancient Minoan for-fathers, and humbled by the beauty of nature surrounding us, our journey of this vision began in 2008. 

With passion to intricate detail, Conte Marino Villas were constructed to embody the architectural traits of stability and class of Crete's Nobel civilization, with that of the exceptional life breathing soil of the grounds in which they lay – enabling nature and structure to become one effortlessly. 


Simply put, " we created a "dialogue" of transparency between Conte Marino Villas and the outside world.." , note from Architects, Aristomenes and George Baroudakis.
Paired with this, lies the unmistakable notion of Cretan Hospitality, where our home becomes yours. Where the purest notions of the fertile land and warm sun are utilized to nourish the soul and unwind the senses daily.
With a contemporary and timeless approach to interior design against a magnificent backdrop of endless green, we have created a masterpiece hide away retreat that will re-define your concept of comfort and privacy.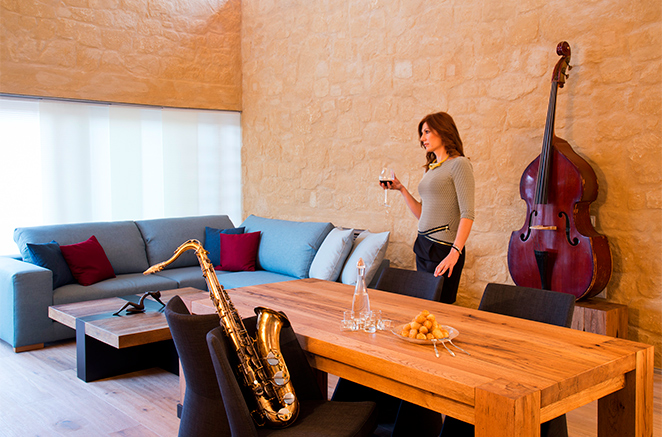 Step away from the world you know, and take an authentic journey with us into to the heart of Chania through Conte Marino. Once a dream, now a materialized vision, not a space, but rather a pure way of living.