Ios Palace Hotel & Spa is the epitome of Cycladic beauty condensed in a bright white microcosm at the edge of Mylopotas bay in Ios island. Open your eyes wide and drift away for a brief flight over the golden, sandy beach. You are surrounded by impressive, hip, elegant designs in perfect harmony with luxurious details and exclusive services.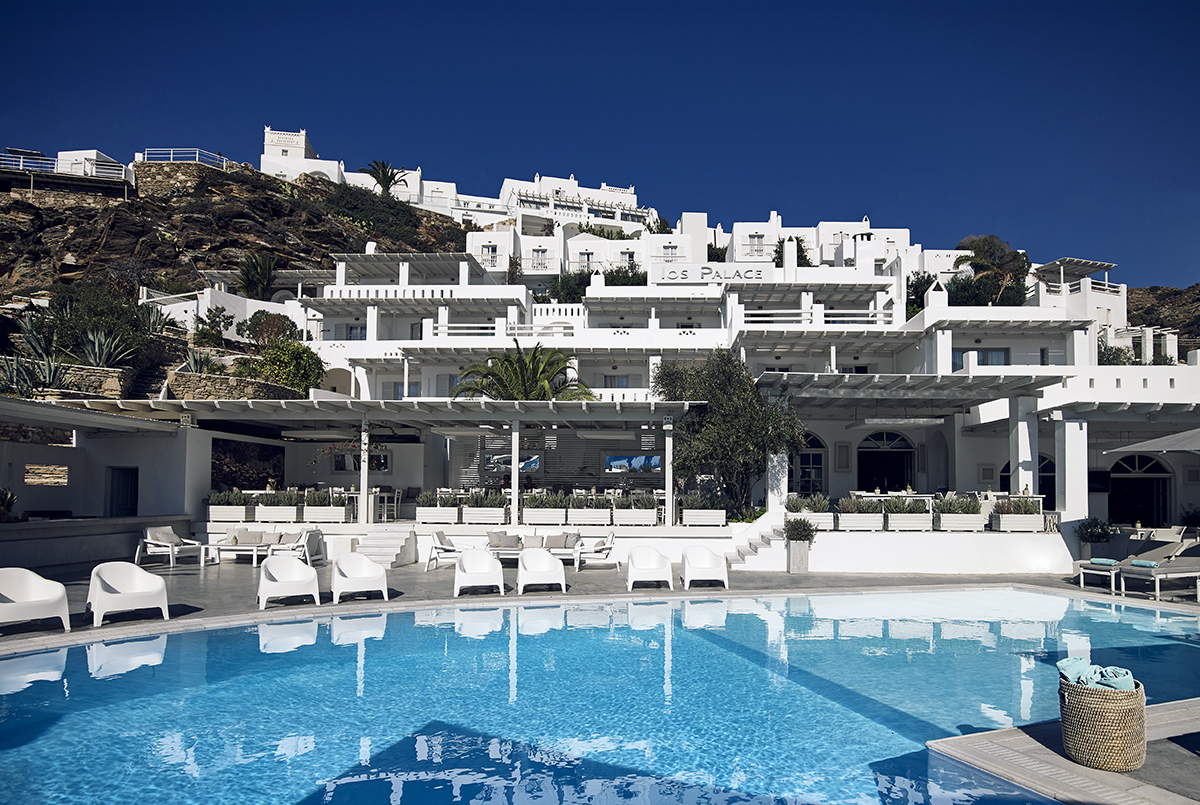 A divine beach at your feet
Ios Palace Hotel and Spa is considered the best choice for those who are seeking hospitality with a capital 'H'...in an amazing Cycladic island, with views of the Aegean's blue in every direction, with one of the best beaches of the Mediterranean at their feet and a picturesque Cycladic town at walking distance.     
With absolute respect to the Cycladic architecture, the hotel's premises seem to form a subtle extension to the surrounding landscapes. Minimalism and modern touches, bright whites and pale greys, natural sunlight and bright red geraniums, deep blue of the sky becoming one with the sea's blue-green palette...So many contrasts, so much need for relaxation and inner calmness, one end result: perfect balance.    
Authentic hospitality at 60 rooms & suites
60 rooms and suites at your disposal. All of them distinguished for their minimal decoration with details that connote to the element of water via the carefully selected transparent furniture by Kartell and the use of multicoloured glasses. Highlight of the rooms and suites at Ios Palace Hotel & Spa: the lyrics of Greek poets on the walls which constitute a source of inspiration to further enable your inner personal escape.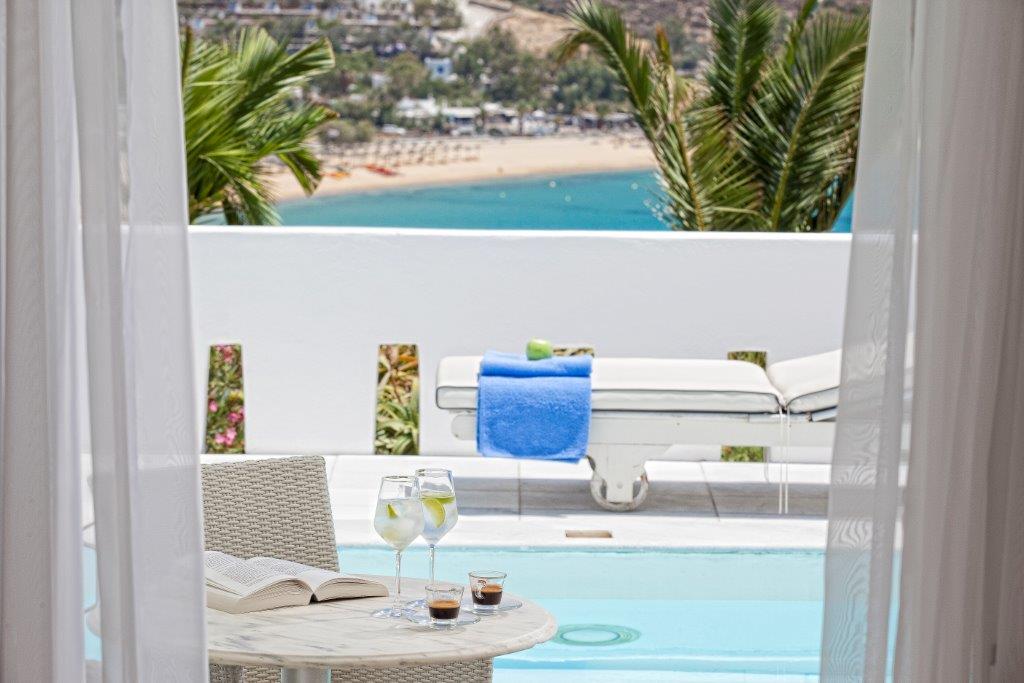 Chill-out moments, cocktails by the pool
Leave the serenity of your room behind when you alternatively get in the mood for chill-out experience by the pool. Margarita Bar is right by the hotel's main swimming pool and offers a refreshing cocktail menu.
Then again, if more exclusivity is all that you are seeking for, there are two more swimming pools at the upper levels of the complex where nothing at all could spoil your privacy. Relax at the comfortable sun-beds and fall deep into the concurrency of the unique rhythms of the Cycladic winds as you gracefully sip your freshly squeezed, nourishing fruit juice...  
Tomatini BBQ Restaurant by the hotel's main swimming pool has been created to enrich your culinary knowledge of the Greek and Cycladic tastes, in the company of the supreme views of Mylopotas beach.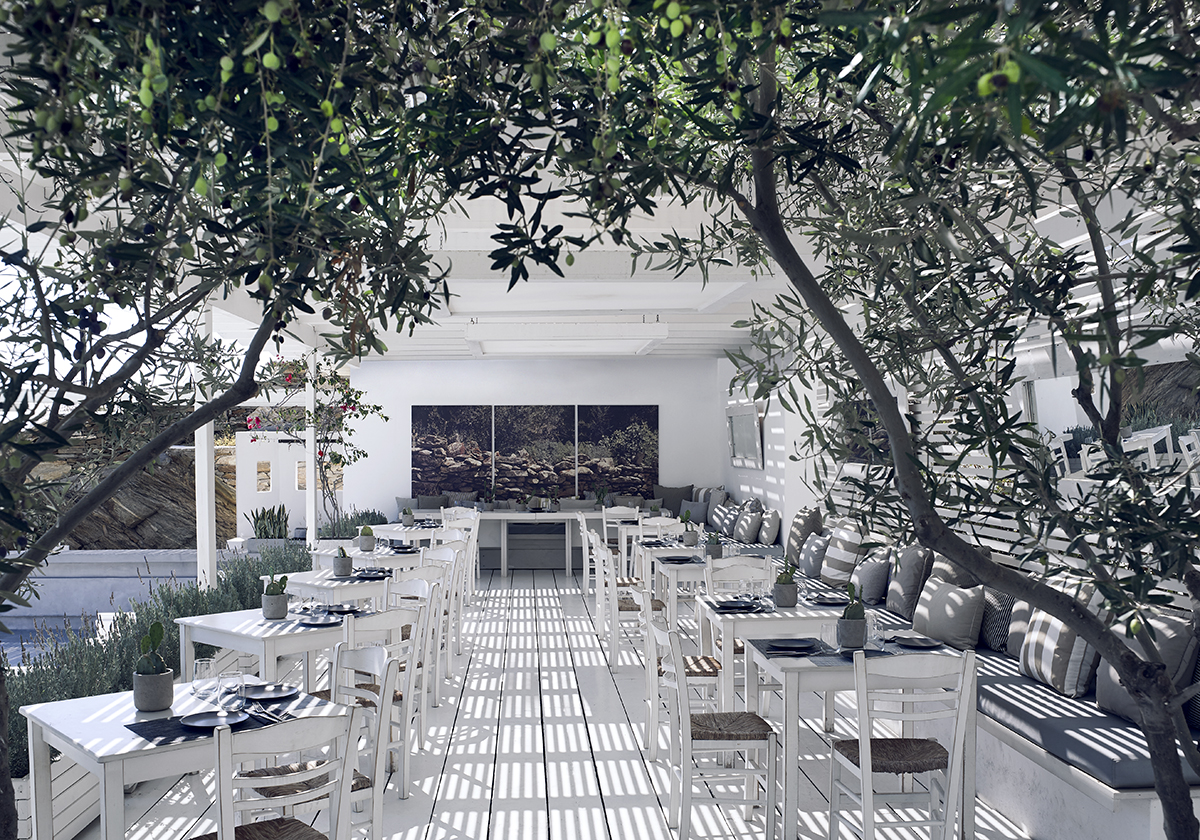 Fitness & well-being in cooperation with Holmes Place 
Situated at the top levels of the hotel complex - from where the views are absolutely breathtaking - Ios Palace Spa, in cooperation with Holmes Place, has been created to satisfy the needs of those who give a priority to their inner wellbeing and outer beauty.  Also, do not miss to keep your fitness levels high during your summer holidays, at our fully equipped gym in cooperation with Holmes Place.