We welcome you to a luxurious complex of three houses where love, affection, loyalty and elegance are the primary elements…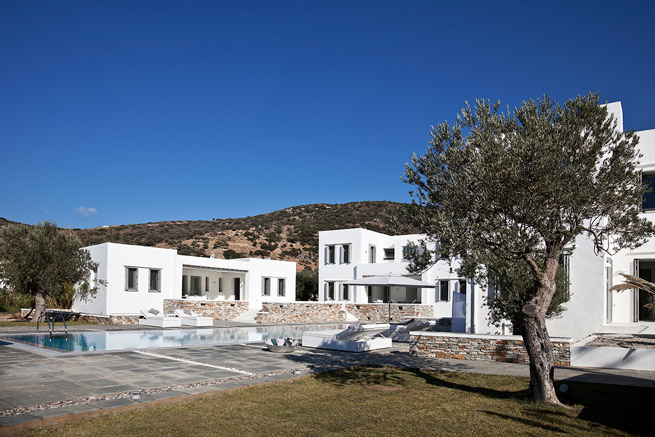 Villa Verina Vathi is a white gem located in Vathi at the edge of the village and very close to the homonymous beach. Upon entrance to its microcosm you will praise its superiority. It is the perfect representation of elegance, gracefully fusing a modern architectural approach with traditional Cycladic elements. A true specimen of genuine hospitality, where the architectural approach follows loyally the clear-cut lines and minimal decors and, in parallel, gives a key role to supremely glamorous details.
Your dreams come true in this summer getaway. Your holiday destination acquires a valuable meaning. Villa Verina Vathi presents a superb meet-up space consisting of the massive outdoor swimming pool and the private yard, enabling guests to sunbathing sessions alongside cocktail drinking at the all-day pool bar. The Villa offers 8 distinct accommodation entities and various communal areas, all of which share the magnificent view of this private outdoor space. In its simplicity, a large sculpture depicting an overweight woman in a bathing suit ready to take her morning swim, gives that notable touch of contemporary art which is notoriously suitable to the whole setting.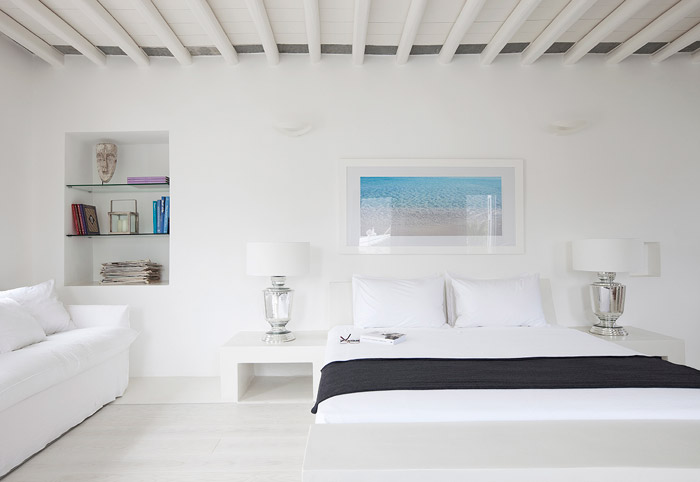 The complex of Villa Mima consists of three buildings where we find Standard Double rooms and Master rooms. The communal areas include three living room spaces, two kitchens with dining tables and separate dressing rooms for men and women. The design decors flirt eternally with the detail yielding a uniquely formidable result.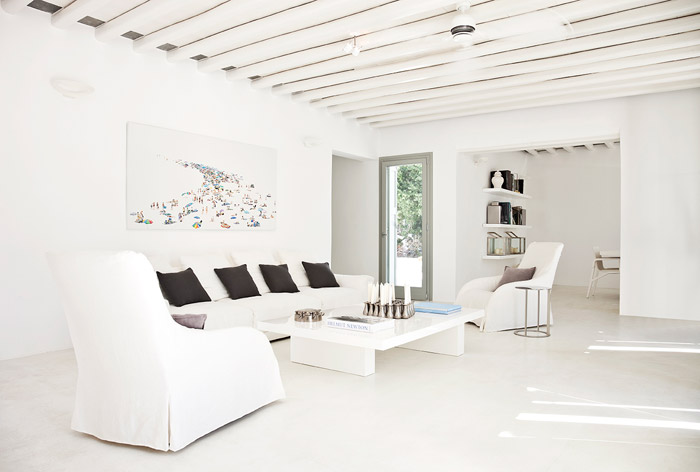 Apart from the numerous high standard and complementary hotel services and facilities, Vila Mima presents a string of state-of-the-art high tech amenities, such as the oversized TV at the pergola outside. A love for the arts becomes apparent through the interesting art paintings from the owner's -Marina Vernicou- personal collection that beautify the surroundings even further. The relaxing steam room and the ghost beds constitute points of interest and the elaborate designer fabrics enhance the levels of elegance by making extravagant breaks to the total white canvas.
In the night time, your room's private veranda will offer you tranquil and autonomous times in the company of your telescope and when you feel that it is time to continue gazing at the stars with a naked eye, then that is equally possible from the comfort of your bed.
Just before you close your eyes, feelings of joy and warmth will come upon you in a string of pleasurable waves. Let go of your doubts...You are not dreaming. This is for real.
 * The villa is also available for a private booking as a whole.