The enchanting landscapes are inviting you out as soon as you open your bedroom windows in the morning...Walk barefoot towards the pier. Let the energy of the surroundings enter your body and soul while you gaze dreamily at the imposing rock of Cavo Grosso. Kyrimai Hotel is not just another boutique hotel. It has to offer so much more, as long as you let yourself relax and plunge into an "aquatic experience" in the deep blue sea that engulfs it.  
As you approach the small port of Gerolimenas in the region of Mesa Mani, Kyrimai Hotel will be easily spotted and will immediately captivate you. You are almost there. Yet another treasure of this magnificent part of Greece is ready to welcome you in a world full of surprises. The beautifully restored hotel building enabled Kyrimai Hotel to be listed as a member of the Historic Hotels of Europe. Decades ago, its Reception area used to be the cellar and wood storage and where the safe of the owners was well hid.  
It was almost 130 years ago when the building was constructed by Michalis Katsimandis - a merchant from Syros - and Theodore Kyrimis also a merchant and mayor of Mesa Mani area. Their aim was to give a boost to the whole area and put it on the commercial map of what was considered to be Greek territory back then. Their initial idea was successfully realised with boats coming and going from the small port of Gerolimenas, full of local products from the region of Mani which became more and more known internationally. 
Nowadays, the hotel owner Alexandros Kyrimis, will welcome you with this interesting story and through his fascinating narration you will feel a lot more than just another guest of the hotel. You will feel part of this family in a way that cannot be described. You will just feel it...that you are taken great care of as you are having your homemade breakfast brought to you on the wooden deck by the seashore. You will just sense it every time you talk with the hotel management and staff as if you had known each other for years.  
You will sense it while dinning at the hotel's atmospheric restaurant when you will have to make choices among the culinary creations of chef Stavriani Zervakakou. Here again, the notion that you are at home will be strong as you comfortably taste the best of Greek cuisine with a twist, in the company of the best wine labels possible.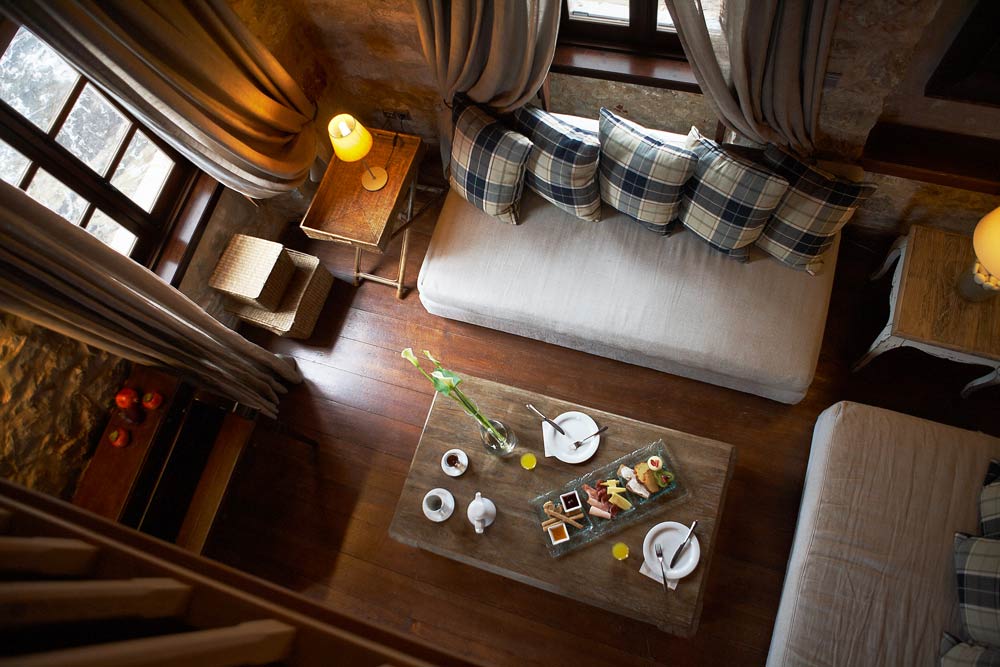 The hotel decors are characterised by the combination of traditionalism which tie splendidly with contemporary comforts and discreet luxury. Rooms and suites emit an elegant air. The ample natural light coming in highlights the handpicked furnishings and decorative ornaments that could never be stereotypic within such a historic frame. Country chic styling has been selected to portray the stone walls, earthy colors and pure linen fabrics preserve a state of constant serenity indoors and challenge the visitor to make the most of the exquisite sceneries outdoors when in search of more action. 
It is outdoors that the deep blue of the Aegean Sea plays eternally with the rock of Cavo Grosso. It is out there that the sky's brilliant blue will magnetize your senses. The owner's stories about the glorious past of the small port that lies before you, will make you think that soon enough a boat with large white sails will turn in and you will be the sole lucky spectator. You will sense that you are part of a place where time has no restrictions or dimensions. It just stops...and allows you to enjoy it at ease.