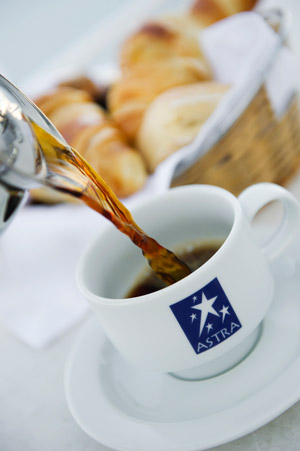 You might feel that you have just woken up after having one of those sweet dreams. It is the sound of the breeze that will wake you up in the morning. It is the rays of the sun that will "invade" your Suite and invite you to begin your delightful day. And then, when you make your way to your veranda to stretch that body, it is the sublime view of the Caldera that will "smile" at you first.
At Astra Suites, what comes up next is not what we call a typical breakfast. It will be served for you either at the privacy of your balcony or even in bed, if you so prefer. A highly nutritional range of local products and greek delicacies will boost your energy levels. A variety of omelettes, freshly squeezed juice, your favourite coffee...to mention just a few examples...in combination with a unique scenery for your eyes only.
Big plus, breakfast is served up to 11:30! You are not dreaming still. This is for real...