According to Tripadvisor you have just selected to stay at one of the top 25 hotels in the world. AstraSuites is famous for the services it provides to its guests in the same voting.
Located upon the impressive cliffs of the Caldera it resembles to a heavenly place all dressed in white. Here on earth we call it Imerovigli and it will fascinate you with the panoramic views of the unique volcano in Europe and the unforgetable sunsets.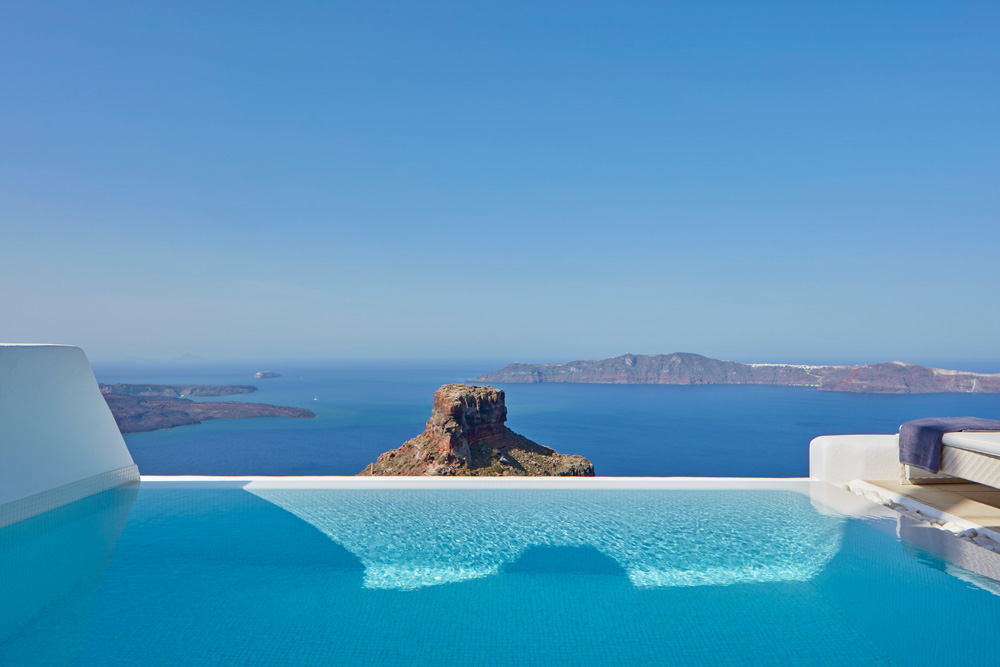 If the above scenery provokes your curiosity, there is one thing for which you can be sure. This is not a fantasy. This is real. Feel the rays of the sun over the Cyclades on your face, watch the unique Caldera greeting you every morning, sense the most serene place you have ever found yourself in. Believe that you are at (your dream) home.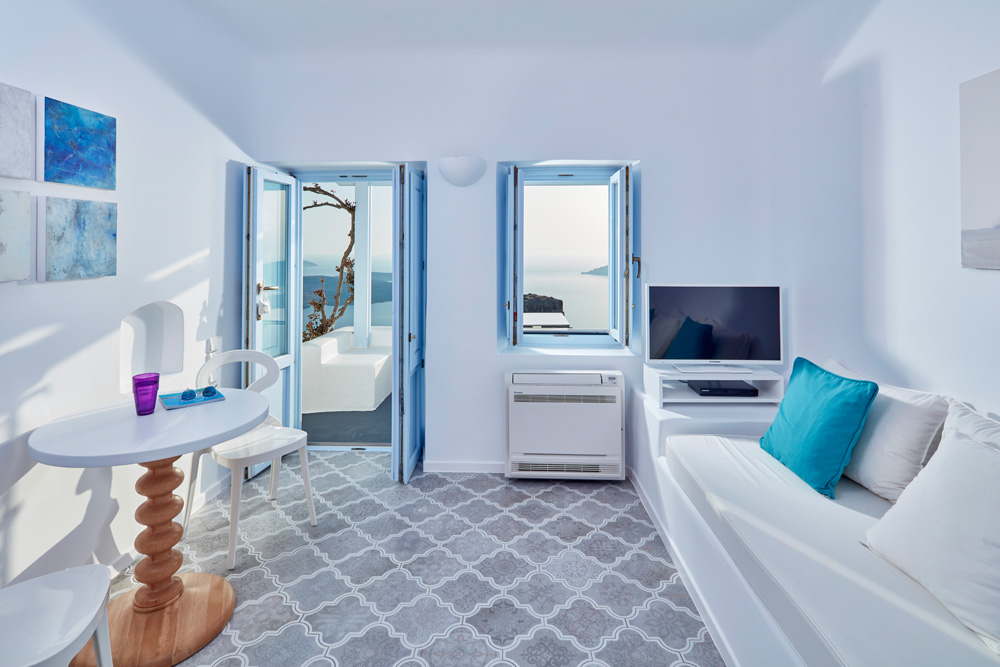 Astra suites is drenched in white, but bright colours do invade your sight unexpectedly through the fine fabrics, the Italian mosaics and the pricey materials on the floors and beyond. The hotel's ideal location and its services alongside the room amenities will meet the needs of the most demanding clients.
Make your Suite your newly acquired "treasure". Minimal styling in perfect marriage with the Cycladic tradition.  Fitted ultra sized beds, pure cotton linens of high quality, brightly colored bathrooms, discreet hidden lightings, art paintings exclusively created by local artists.
Most Suites have their own private swimming pool and Jacuzzi. Make yourself a present. Visit Astra Suites and live an unprecedented experience!
The communal swimming pool has a marvellous pool bar for fresh juices and cocktails, at your disposal if and when you do decide to part from your private oasis for a little while. Then again if you like spoiling yourself, indulge at the Spa of the hotel which offers a complete range of exclusive face and body treatments carried out by the expertly trained staff.
And if you think you have seen everything, don't forget to satisfy one last thing. Your appetite. The restaurant in Astra Suites offers a selection of culinary delights devoted to Greek creative cuisine accompanied with the best Greek wine labels. Fine dinning with breathtaking views at the terrace setting of the restaurant will gain yet another tick on your checklist.  
You will be fascinated by the whole scenery. You might need to take your time in order to get used to the constant positive energy intake. Astra Suites is a hotel that has won many awards and titles. The island of Santorini is listed among the best destinations on a world scale. All roads lead to Imerovigli. You are here and you hold the protagonist role in one of life's best stories.