Vikos gorge: Clear-cut, natural beauty one will never come across elsewhere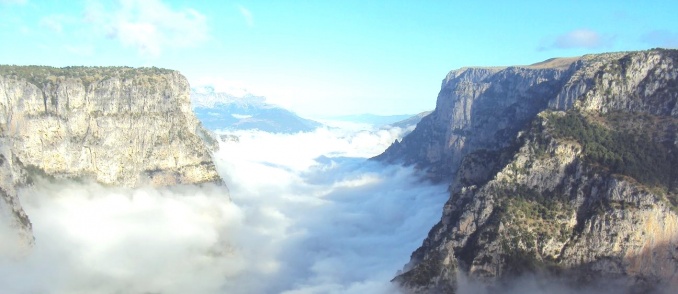 The core of the National Park of Vikos – Aoos is certainly a source of the most natural spectacle you will ever come across. What will overwhelm you though, is the fact that you will find yourself within the deepest gorge in the world.
The gorge's location is at 30 Km from the city of Ioannina and at the vicinity of the picturesque village complex of Zagorochoria.
It stretches over a total length of more than 20 km and its depth counts 1000 meters at more than one points of its course.
Research in the gorge of Vikos has revealed traces of human existence which dates 40.000 years back in history but - apart from this element of great importance - what has made the gorge internationally known is its vast diversity of rare species of fauna twined with its rare flora.
Vikos gorge is, apparently, the perfect setting for the growth of 5 categories of regional, endemic plants which are not to be found elsewhere in Greece. Additionally, the area is the natural habitat of wolves, deer, bears, wildcats and other species of the wilderness which altogether render it a forbidden zone for long-term human presence.
In case you are far too attracted to its "secret world", then you will be rewarded by the panoramic views of the whole gorge which the villages of Vadeto (Beloi) and Oxia offer in abundance. Then again, If you belong to those people who simply cannot resist to its beauty and would like to have a closer look, then all you have to do is choose one of the suggested courses for hiking. There are many alternative routes to cover all fitness levels.